Welcome to Loves First Step Wedding Films. My names is Scott, your professional wedding videographer and I would like to share with you a little about my background and my wedding videography business.
Currently working as a professional cameraman in the television and film industry, I work with a number of organisations including the BBC, ITV, Channel 5, Granada, SKY and am employed to work on a number of live events, commercials and dramas including 'Hollyoaks'. The experiences and technical knowledge I have gained working with some of the best in the industry are what ultimately helped channel my career towards creating visually stunning footage and beautifully shot films.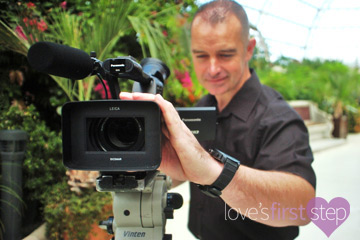 It was not until later on in my career that I was introduced to the delights of wedding videography after being asked by a few friends to help them set up their very own wedding film business. The idea was new and exciting and away from the normality of the corporate films, commercials and live events, I developed a new passion, meeting lots of fantastic couples along with their families and friends whilst I filmed those emotional first steps couples undertook as they became husband and wife. As each wedding was very unique, being able to film the day as it unfolded and capturing the laughs and rollercoaster of emotions, became something very special that gave me a great sense of satisfaction and something I took pride in filming.
A few years later and having helped contribute to the success of another wedding videography company, the seed to set up on my own was planted and I decided to set up Love's First Step a fusion of simplicity and professionalism to offer couples my own unique style of professional wedding videography and a service to match.
Unlike a lot of other videographers, it's not about which package you choose or how many hours filming you can expect, nor is it about anything staged or false, or having a camera pointing uncomfortably in your face throughout the day. Loves First Step is about fun and laughter, tears and joy and about simply catching the best of your special day and delivering it to you in a beautiful keepsake you can treasure.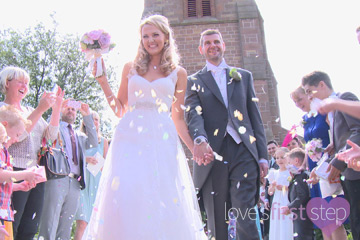 Your wedding day is all about you, it's about you being in love and having fun and my job is to simply capture the magic of the day in the best way possible, offering couples a truly enjoyable experience, offering a wedding film that delivers everything you wanted and more.
Having filmed weddings across the UK and been fortunate to have worked at some amazing venues, Love's First Step prides itself on building great relationships with its couples, knowing you feel confident that the end result will be simply unique.
"When all your memories are stored in a box how will you remember this one?"